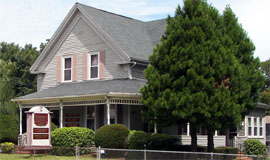 McLaughlin
&

McLaughlin

, P.C.
Personal Injury Attorneys - Brockton MA
Medical Malpractice
Car Accidents
Slip & Fall Accidents
Defective Products
Dog Bites
Wrongful Death
You've been injured. Now what?
Quite simply you are facing the most critical decision of your lifetime - and you don't know what to do. Nothing could have prepared you for what's ahead. You didn't anticipate what happened, and now you're facing huge medical bills and an uncertain future. Will you ever be able to work again? What about future earnings? Is your life expectancy affected - not to mention your quality of life?
Don't make a bad situation worse. Call McLaughlin & McLaughlin today. We know what you must do to protect your future and your family.
McLaughlin & McLaughlin, P.C.
1135 North Main Street
Brockton, MA 02301
(508) 588-4596 – telephone
(508) 588-1288 – fax